Try it for 60-days!
If you don't like it, return it. It's that simple.
- Installation: Easy 4 bolt installation.
- Cables: Easily installed & Hidden in the arms.
- Picture Frames: Select from multiple options or install your own.
- Artwork: Just like a standard picture frame you can easily install any artwork you like.
- TV Compatibility: Fits most TVs with a screen size up to 32" (See TV size chart)
The Extended FlipOut is similar to the Standard FlipOut but designed for beds with thicker head boards. Available for up to 32" TV's; the Standard FlipOut makes it simple to hide your TV in the bedroom while also making TV viewing enjoyable and pain free!
Through years of careful design and testing we developed this patented design that counter-balances the TV's weight through a complex system of linkages making it remarkably easy to open and close by hand and incredibly strong, rigid, and reliable. Additionally, because this mount doesn't require components that can wear out over time like a motor, springs, or friction retainers, it will stand the test of time.
The Extended FlipOut is designed to fit most LED, LCD and Plasma TV's with a screen size up to 32" (See TV Dimension Chart). This mount extends your TV far enough that you can watch TV comfortably while lying down or sitting up in bed. Closing flat against the wall your television will be completely hidden. The arms of the mount are designed to conceal the cables that connect to your TV. You can easily install these cables yourself. When you're not watching TV simply close the mount to completely hide your TV behind the attached picture frame.
Easily open or close the mount while in bed or standing next to the bed. Because of the incredible strength of this mount pushing it closed from the side is no problem. Push or pull anywhere on the frame and it will remain rigid and will not bind.
The picture frame can be easily removed for access to the back of the TV or to change the picture or artwork. Its patented design uses linkage to counterbalance the TV's weight making it easy to operate by hand. Because this mount doesn't require components that can wear out over time like a motor, springs, or friction retainers, it will stand the test of time.
Try it for 60-days! If you don't like it, return it. It's that simple.1 Year Warranty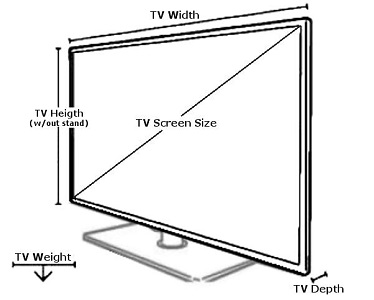 The Flip-Around mounts are designed to fit various sizes of TVs (see the maximum dimensions specified below). If you have any questions or if your TV falls outside these dimensions please feel free to call 1-208-287-8882, click the Live Help box in the lower right corner of your screen, or send us an email.
TELEVISION Dimensions & Weight (Maximum Specs)
TV Mount Model #
Picture Frame Style
Screen Size
Width
Height
Depth
Weight
M1E-32-5

LOW PROFILE

up to 32
31.0
20.4
3.0
30 lbs.

MAX MOULDING (200 & 400 Series)

2.8

MAX MOULDING (986 Series)

3.1

AIO

3.6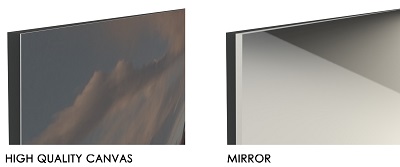 ---
OPTION 1: High Quality Canvas www.MyCamera2Canvas.com (Prices: $99)
Purchase artwork specifically made for HVTVmounts at www.mycamera2canvas.com. Choose from 6700+ images or upload your own!!! MyCamera2Canvas.com will send you a High Quality Canvas print mounted on ridged Black foam board and sized to fit your picture frame. Printed with Archival Quality Pigmented Inks and coated with a UV protective coating your artwork will resistance scratches and color fading for up to 100 years.
OPTION 2: Hidden Vision(TM) MIRROR (Price: $169)
HVTVmounts offers specially designed mirrors to fit in your Hidden Vision(TM) picture frame. Our mirrors are backed with black ridged foam which provides two main benefits. 1) Safety: The ridged foam will hold the mirror together should it ever break. 2) Quiet: The foam dampens/removes the reverberation & distortion of sound through the mirror. Once you've ordered your TV mount you can call in to order the mirror.
OPTION 3: Install your own artwork
You can install any artwork within the specification below. If you choose to install a mirror from your local glass shop we recommend 1/8 in. mirror (for weight reasons) that is backed with a safety mesh or safety nylon backing. For more information please contact us.
---
Artwork Dimensions
TV Mount Model #
Picture Frame Style
Width
Height
Max. Depth
M1E-32-5

LOW PROFILE

36-1/2
22-5/8
3/8

MAX MOULDING

37-7/8
24
3/8
OPTION 1: MAX MOULDING Picture Frames + ($349) More Info
MAX Mouldings are our high-end line of mouldings. They are solid wood and offer a veriety of styles and finishes.
OPTION 2: LOW PROFILE Picture Frame + ($149 to $249) More Info, Video
This is a simple and modern frame design that we manufacture here in Boise, Idaho. Made of solid wood and finished with high quality lacquor. Its a great looking frame for a good price.
OPTION 3: AIO Picture Frame + ($199 to $299) More Info
This option allows you to install a thicker TV. The tapered design helps conceal the added depth of the picture frame.
OPTION 4: SHADOWBOX Frame EXTENDER + ($99 to $149) More Info, Video
This option allows you to install any style picture frame you want. Once you receive the TV mount give the Shadowbox Extender to your Framer and they will attach any frame you choose.
OPTION 5: No Frame ($0)
Select the No Frame option if you'd like to recess this mount into a wall or build your own frame around it. If you need guidance feel free to contact us.
Picture Frame (OUTSIDE DIMENSIONS)

TV Mount Model #
Picture Frame Style
Width
Height
Depth
M1E-32-5

LOW PROFILE

39-5/8
25-3/4
3-7/8

MAX MOULDING 200 Series

3-5/8

MAX MOULDING 400 Series

3-7/8
MAX MOULDING 986 Series
3-15/16
SHADOWBOX EXTENDER
3-1/2
Q: How do you run cables and are they hidden?
A: The wires are routed from the TV through the arms to the wall. The arms hide the wires and built in cable straps secure the wires to the arms.
Q: Can I install cables myself?
A: Yes. The wall mount arms are designed to allow access for the user to add or remove cables easily. (Note: You may want 90 degree end adapters for your cables where they connect to the TV on some TV models.)
Q: Is the TV mount sturdy enough that it won't fall on my head?
A: The FlipOut mounts are very sturdy and with proper placement of all four Lag bolts into studs It will not fall.
Q: Can you adjust the tilt of the TV?
A: On the FlipAround and the Standard FlipOut you can adjust the tilt a little. On the Extended FlipOut you can not adjust the tilt.
Q: Can I make my own frame?
A: Yes you can make your own frame. But the frame must fit certain specs to work with the mount. Those can be acquired by contacting info@hvtvmounts.com
Q: Can I adjust the angle of the TV and the viewing distance?
A: All of our models have varying degrees of adjustability. For the "Extended Flip-Out" and "Standard Flip-Out" models you can adjust the viewing distance by raising or lowering the mount on the wall. Our "Standard Flip-Out" model has three preset angles to choose from. Because our "Extended Flip-Out" model extends the TV so far out we found that the TV angle adjustment is not needed.
Q: I have a stone/brick/cement wall; can I install a mount on it?
A: Each Mount is provided four lag bolts for wood studs. It is recommended you use a professional installer to install and make sure they use proper cement lag bolts.
Q: How do I get the artwork?
A: We use a 3rd party that offers thousands of images to choose from, or allows you to upload your own photo and have it shipped to you. Just visit www.PODexchange.com . You can also take your frame into your local frame shop and work with them to supply artwork.