'M1' Extended Flip-Out Wall Mount w/ Picture Frame (Motorized)
You may also be interested in the following product(s)
| | | | |
| --- | --- | --- | --- |
| | | | |
Features
MOTORIZED! Can be connected to home automation systems such as Control 4, Crestron, and similar.

Installation: Easy 4 bolt installation. Wall mounting slots align with standard stud spacing (16", 24", and 32" on center spacing)

Cables: Easily installed & Hidden in the arms.

Picture Frames: Select from multiple options or install your own.

Artwork: Just like a standard picture frame you can easily install any artwork you like.
BRIEF DESCRIPTION:
With the push of a button, this mount extends your TV out from the wall above your bed's headboard so you can watch TV comfortably while lying down or sitting up in bed. Closing flat against the wall your television will be completely hidden. The arms of the mount are designed to conceal the cables that connect to your TV. You can easily install these cables yourself. When you're not watching TV, simply close the mount to completely hide your TV behind the attached picture frame.
HISTORY:
Introduced in 2010, our manually operated Extended Flip-Out has proven itself against the test of time. Our first customers still use theirs today! In 2012 we received an INNOVATION AWARD at CES for this product, and in 2014 we received patent approval! This is our newest upgrade, introduced in September 2017.
WALL MOUNTING:
There are 12 mounting slots spaced at 16", 24", and 32" spacing to correspond with standard stud walls. The product comes with lag bolts meant for fastening to wood studs. However, with the use of appropriate fasteners, you can also attach this product to metal studs, concrete, or block. It is best to contact us for more info regarding alternative structures. This product CANNOT be installed using drywall anchors.
TV COMPATABILITY:
These mounts are adjustable to fit different size TVs without affecting the Artwork/Picture frame size. You'll need to refer to the Maximum TV Dimensions for specifics, but in general, here's what to consider. Most TVs fit within the height & width requirement. However, TVs vary significantly in depth (thickness), so it is the first dimension you should consider when choosing a TV. The maximum TV depth is also affected by the picture frame you choose. Feel free to contact us to verify a TV fit.
We recommend choosing a TV after you've received your mount. This way you will have a better understanding of how the TV fits inside the mount.
Here's a list of some TVs that fit: M1-32-5, M1-43-5
CABLES:
You can fit up to 6 cables in total (3 in each arm). Cables are easily installed inside channels along both arms.
There are cutouts along the top edge of the wall mount bracket for cable access to the wall.
Where to put your cable box & DVD player? There are multiple ways to facilitate this. It's easier explained over the phone. Give us a call.
Video of recommended product for easily routing cables: Video, Wiring kit for Motorized Extended Flip-out, Wiring kit for Non-motorized Extended Flip out, Cable pull & drywall saw
PERFORMANCE & DURABILITY:
Through careful design and testing, we developed this patented design that counter-balances the TV's weight through a system of cleverly arranged linkages that do not wear over time. This product is made of steel parts and is incredibly strong, rigid, and reliable. It will stand the test of time. We use 3 layer bearings (Teflon coated, brass lined, and steel-backed). The mount is driven by two high-torque Planetary Gear motors. Should any issue arise with a motor, they are replaceable.
Try it for 60-days! If you don't like it, return it.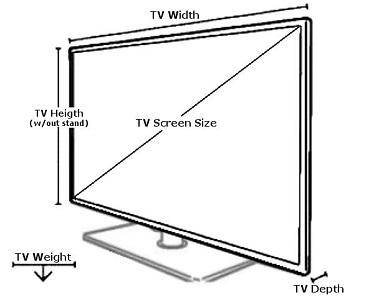 The Flip-Around mounts are designed to fit various sizes of TVs (see the maximum dimensions specified below). If you have any questions or if your TV falls outside these dimensions, please feel free to call 1-208-287-8882, click the Live Help box in the lower right corner of your screen, or send us an email.
Here's a list of some TVs that fit: M1-32-5, M1-43-5
TELEVISION Dimensions & Weight (Maximum Specs)
TV Mount Model #
Picture Frame Style
Screen Size
Width
Height
Depth
Weight
M1-32-5

LOW PROFILE

up to 32
31.0
20.4
3.5
30 lbs.

MAX (200 & 400 Series)

3.0

MAX (986 Series)

3.5

1540B, 1541W

3.5
M1-43-5

LOW PROFILE

up to 43
38.4
22.75
3.5
30 lbs.

MAX (200 & 400 Series)

3.0

MAX (986 Series)

3.5

1540B, 1541W

3.5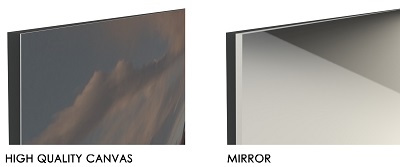 How's the Artwork or Mirror work?
How's the artwork installed? Install artwork or mirror in the picture frame just like a standard picture frame. Lay the artwork in the frame then use the supplied hardware to hold it in place.
When is the artwork installed? You can install or replace artwork (or mirror) anytime without disassembling the TV mount or removing the TV. So, you can install the TV mount and picture frame then decide on artwork later. Simply, detach the picture frame from the TV mount, insert or replace your artwork, then re-attach the picture frame.
---
What are my options?
OPTION 1: MIRROR
Order mirror from us: Click here to purchase a mirror from Hidden Vision. This option is the most simple in our opinion. The mirror will be sized to fit your order. It will be backed with commercial grade safety backing as well as a black border for aesthetics. The mirror will be shipped in its own box and can be ordered at any time.
Order mirror yourself from a local glass shop: If you choose to install a mirror from your local glass shop, it should be a 1/8 inch thick unless you talk to us first and order your TV mount with custom spring setting. The mirror should also be backed with a commercial grade safety backing. Find mirror dimensions for your model and picture frame listed below or in your instructions.
OPTION 2: Order a High-Quality Canvas print from Hidden Vision
You can order High-Quality canvas prints from us. Artwork ships separately and can be installed at any time after the TV and picture frame are installed so no need to rush a decision. We stretch our canvas prints over a rigid hardboard sized to fit your picture frame. The canvas will be coated with a UV protective Coating and the back is finished with a black border so not to be an eyesore when watching TV.
- Click here if you'd like us to print artwork from one of these online resources: shutterstock.com, istockphoto.com, useum.org, or mycamera2canvas.com. (NOTE: The mycamera2canvas website is slow to load. Once you've selected your options from the drop-down menu, please wait, the images will appear, but it will take a minute or two.)
- Click here if you'd like us to print one of your pictures. You can email us an image to print.
- Click here to view our selection of photography.
- Click here for blank canvas for painting
OPTION 3: Source artwork locally or use your own.
You can order artwork from a local art supplier or printer and install it anytime after the TV mount is installed. Here's what you want to request, "canvas, mounted on 3/16" board (preferably black in color if available). You'll find artwork dimension listed below as well as in your instructions booklet. If you'd like to install something different, please contact us to discuss your options and specific product requirements.
---
Artwork Dimensions
TV Mount Model #
Picture Frame Style
Width
Height
Max. Depth
M1-32-5

LOW PROFILE (LP)

36-3/8

22-1/2

3/8

MAX 200, 400, & 986

series, 1540, 1541

37-3/4

23-15/16

3/8

M1-43-5

LOW PROFILE (LP)

43-5/8

25

3/8

MAX 200, 400, & 986

series, 1540, 1541

45

26-1/2

3/8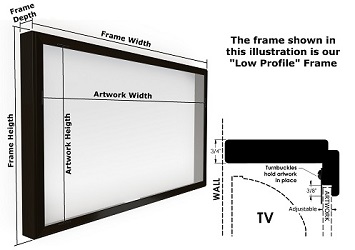 OPTION 1: MAX MOULDING Picture Frames + ($349) More Info
MAX Mouldings are our high-end line of mouldings. They are solid wood and offer a variety of styles and finishes.
OPTION 2: LOW PROFILE Picture Frame + ($149 to $249) More Info, Video
This is a simple and modern frame design that we manufacture here in Boise, Idaho. It's a great looking frame for a good price. Available in Popular material and sold as an Unfinished LP frame or Extender frames. The frame is ready for you to give it a personal look.
OPTION 3: AIO Picture Frame + ($199 to $299) More Info
This option allows you to install a thicker TV. The tapered design helps conceal the added depth of the picture frame.
OPTION 4: SHADOWBOX Frame EXTENDER + ($99 to $149) More Info, Video
This option allows you to install any style picture frame you want. Once you receive the TV mount, give the Shadowbox Extender to your Framer, and they will attach any frame you choose.
OPTION 5: No Frame ($0)
Select the No Frame option if you'd like to recess this mount into a wall or build your own frame around it. If you need guidance feel free to contact us.
Picture Frame (OUTSIDE DIMENSIONS)

TV Mount Model #
Picture Frame Style
Width
Height
M1-32-5

ALL STYLES

39-5/8*
25-3/4*
M1-43-5

ALL STYLES

46-7/8*
28-1/4*
* The outside dimensions of your picture frame may vary +/- 1/8" due to varied molding thickness. Contact us for more information.