'M3G' Flip-Around (Manual)
You may also be interested in the following product(s)
| | | | |
| --- | --- | --- | --- |
| | | | |
CONTACT US for details on this product. 1-866-448-8897
Installation: Easy 4 bolt installation.

Picture Frames: Select from multiple options or install your own. (See "Picture Frame" tab)
Artwork: Install artwork, mat board, mirror or any other artwork you want. It's easy! (See "Artwork" tab)
Easy install, no recessing required
Manual and motorized options available
Capacity 45 X 26 (other sizes available and holds up to 70 lbs
Each product has varying levels of security. Feel free to contact us to help you choose the right option for your situation.
Promotion
Ask about our FREE EXTENDED WARRANTY promotion!!! Currently, we are offering a free extended warranty in exchange for pictures and video of your completed project.
Try it for 60-days! If you don't like it, return it.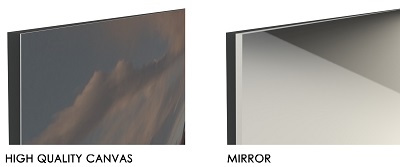 OPTION 1: High-Quality Canvas

Within the "Shop Product" tab you will find the "Artwork or Mirror" category where you can choose from our images or upload your own!! We will send you a high-quality canvas print stretched over a rigid board sized to fit your picture frame. Your artwork is coated with a UV protective Coating and the back is finished with a black cover. For additional artwork options, you can also visit www.mycamera2canvas.com where you can choose from over 6,700 images.
OPTION 2: Hidden Vision(TM) MIRROR
We offer mirrors!! Within the "Shop Product" tab you will find the "Artwork or Mirror" category where there will be an option for mirrors that are made explicitly for your Hidden Vision picture frame.
1) Safety: Our mirrors are backed with a safety mesh backing that is designed to hold the mirror together should it ever break.
2) Appearance: We finish the back with a black rigid board cover, so that is disguised behind your TV.
Option 3: Install Your Own Artwork
If you would like to install your own artwork, there are various options available. Please contact us regarding your options and the specific product requirements.
Option 4: Install Your Own Mirror
If you choose to install a mirror from your local glass shop, it must be a 1/8th-inch mirror in width (Not 1/4th inch). The mirror must also have a safety backing product. Please do not install mirror or glass without contacting us regarding additional requirements.
---
Artwork Dimensions for 200, 400, 986, 1540 & 1541 Series Frames

TV Mount Model #

Width

Height

M3G-50-7

53

27 15/16
Artwork Dimensions for LOW PROFILE ("LP") Frames (OD-3.125)

TV Mount Model #

Width

Height

M3G-50-7

51 7/8

26 1/2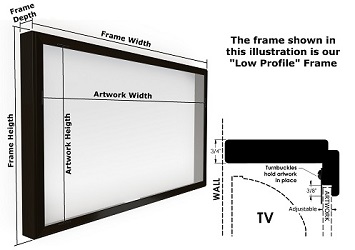 OPTION 1: FINISHED all in one Picture Frames + (Starting at $249) More Info, Video
High-end moldings ready for artwork. Choose the finish and style that fits your taste. No additional framing needed.

OPTION 2: UNFINISHED Picture Frame + (Starting at $199) More Info, Video
This is a simple and modern frame design that we manufacture here in Boise, Idaho. It's a great looking frame for a good price. Available in Popular material and sold as an Unfinished LP frame or Extender frames. The frame is ready for you to give it a personal look.
OPTION 3: SHADOWBOX Frame EXTENDER + (Starting at $99) More Info, Video
This option allows you to install your own picture frame to the face of our extender frame. (Note: There is a limit to the allowable frame thickness along the outer perimeter. It's a good idea to contact us to explain the limitations better)
OPTION 4: No Frame ($0)
If you'd like to build your frame from scratch, you can purchase this mount without a frame.
Picture Frame Outside Dimensions

TV Mount Model #

Frame Width*

Frame Height*

M3G-50-7

55 1/8

30
*The outside dimensions of your picture frame will vary slightly depending on your frame selection. Call for more details.
The space you have to mount and conceal your guns

Gun Compartment

Width

Height

M3G-50-7

45

26