Flip-Around, Manual, w/ Picture Frame
You may also be interested in the following product(s)
| | | | |
| --- | --- | --- | --- |
| | | | |
Try it for 60-days! If you don't like it, return it. It's that simple.
Ask about our FREE EXTENDED WARRANTY promotion!!! Currently, we are offering a free extended warranty in exchange for pictures, video, and customer reviews.
Link to instructions: M3-XX-8.2, M3-XX-8.1, M3-XX-8.0, M3-XX-7 Questions? Our Tech Support is unmatched. You will be impressed!
---
- Installation: Easy 4 bolt installation.
- Cables: Hidden and easily installed. Run along the arms into the wall.
- Picture Frames: Select from multiple options or install your own. (See "Picture Frame" tab)
- Artwork: Install mirror, mat board if desired and any artwork you want. It's easy! (See "Artwork" tab)
- TV Compatibility: Fits most TVs on the market. (See "Recommended TV Specs" Tab)
Usually, television is one of the first things a person sees when they enter a room. If you've ever wanted to hide your TV for protection or aesthetic purposes we have the solution for you. Our Flip-Around TV Mount completely conceals what's inside.
This non-motorized Flip Around can flip a 65" TV with almost no effort and no home or furniture customization required.
The Smooth 180 degree flip is a straightforward and affordable way to hide your TV. With a picture frame on one side and a TV on the other, the transition from a dinner party to a Super Bowl party can happen in an instant.
Through careful design and testing, we developed this patented design which uses a combination of compression springs, gas springs, and a series of links to counter the weight of the TV, art, and frame resulting in easy, smooth, and simple operation.
Try it for 60-days! If you don't like it, return it. It's that simple.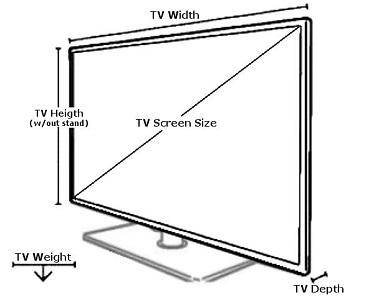 The Flip-Around mounts are designed to fit various sizes of TVs (see the maximum dimensions specified below). If you have any questions or if your TV falls outside these dimensions please feel free to call 1-208-287-8882, click the Live Help box in the lower right corner of your screen, or send us an email.
Here are lists of SOME (not nearly all) TVs that fit and their dimensions: M3-75-8.2, M3-65-8.1, M3-55-8.2, M3-50-7, M3-43-7
Maximum TELEVISION Dimensions & Weight

TV Mount Model #

Screen Size

Width (Max.)

Height (Max.)

Depth (Max.)

TV Weight

(Max. recommended)

M3-43-7

up to 43

38.3

23.0

Please see the note below

40

M3-50-7

up to 50

44.5

26.0

45

M3-55-8.2

up to 55

49.0

28.6

50

M3-65-8.2

up to 65

57.75

33.3

70

M3-75-8.2

up to 75

66.75

38.5

90
Note Regarding TV Depth:
In general 2.5" is the Maximum TV Depth. However, it varies depending on 1) the picture frame you choose and 2) the shape of your TV.
If your TV is deeper than 2.5" please give us a call or email us with your model number and we'll check it for you.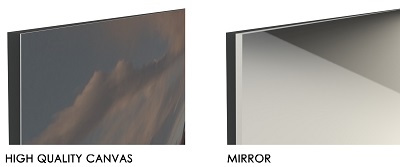 How's the Artwork work?
How's the artwork installed? Install artwork or mirror in the picture frame just like a standard picture frame. Lay the artwork in the frame then use the supplied hardware to hold it in place.
Not sure what artwork you want? No problem. Artwork can be installed or replaced anytime without disassembling the TV mount. So, you can install the TV mount and picture frame then decide on artwork later. Simply, detach the picture frame from the TV mount, insert or replace your artwork, then re-attach the picture frame.
---
What are my options?
OPTION 1: Hidden Vision(TM) MIRROR
Click here to purchase a mirror from Hidden Vision. This option is the most simple in our opinion. The mirror will be sized to fit your order. It will be backed with commercial grade safety backing as well as a black border for aesthetics. The mirror will be shipped in its own box and can be ordered at any time.
OPTION 2: Order a High-Quality Canvas print from Hidden Vision (or mycamera2canvas)
You can order High-Quality canvas prints from us. You can choose from our images, or order a blank canvas to paint on, or you can email us an image and we'll print your image! We stretch our canvas prints over a rigid hardboard sized to fit your picture frame. The canvas will be coated with a UV protective Coating and the back is finished with a black border so not to be an eyesore when watching TV.
For nearly 7,000 additional artwork options, you can order artwork from a 3rd party art supplier we've worked with for many years, www.mycamera2canvas.com. (NOTE: The mycamera2canvas website is slow to load. Once you've selected your options from the drop-down menu, please wait, the images will appear, but it will take a minute or two.)
Note regarding shipping: Unfortunately, shipping artwork is costly. If this is a concern, consider various options to acquire artwork locally.
Option 3: Source artwork locally or use your own
You can order artwork from a local art supplier or printer and install it anytime after the TV mount is installed. Here's what you want to request, "canvas, mounted on 3/16" board (preferably black in color if available). You'll find artwork dimension listed below as well as in your instructions booklet. If you'd like to install something different, please contact us to discuss your options and specific product requirements.
Option 4: Install Your Own Mirror
If you choose to install a mirror from your local glass shop, it must be an 1/8th-inch in thickness (Not 1/4th inch unless you talk to us first and order custom spring setting). The mirror must also be backed with a commercial grade safety backing. Find mirror dimensions for your model and picture frame listed below or in your instructions.
---
Artwork Dimensions for 200, 400, 986, 1540 & 1541 Series

Picture Frames

TV Mount Model #
Art Width
Art Height

M3-43-7

46-3/4

24-15/16

M3-50-7

53

27-15/16

M3-55-8.2

57-9/16

30-13/16

M3-65-8.2

66-1/4

35-3/4

M3-75-8.2

75-5/16

40-11/16
Artwork Dimensions for LOW PROFILE ("LP")

Picture

Frames
TV Mount Model #
Width
Height

M3-43-7

45-3/8

23-1/2

M3-50-7

51-5/8

26-1/2

M3-55-8.2

56-3/16

29-3/8

M3-65-8.2

64-7/8

34-5/16

M3-75-8.2

73-15/16

39-1/4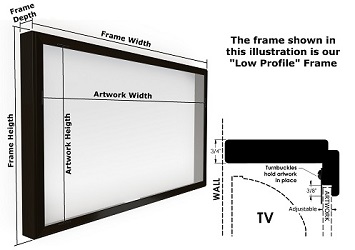 OPTION 1: FINISHED all in one Picture Frames + (Starting at $249) More Info, Video
High-end moldings ready for artwork. Choose the finish and style that fits your taste. No additional framing needed.

OPTION 2: UNFINISHED Picture Frame + (Starting at $199) More Info, Video
Stainable poplar wood picture frames are available in two styles, LP and Extender. Also, keep in mind, you can rough up the surface of any of our picture frames and paint them whatever color you'd like.
OPTION 3: SHADOWBOX Frame EXTENDER + (Starting at $99) More Info, Video
This option allows you to install your own picture frame to the face of our extender frame. (Note: There is a limit to the allowable frame thickness along the outer perimeter. It's a good idea to contact us to better explain the limitations)
OPTION 4: No Frame ($0)
If you'd like to build your frame from scratch you can purchase this mount without a frame.
Picture Frame Outside Dimensions
TV Mount Model #
Frame Width*
Frame Height*
Depth
M3-43-7
48-7/8
27
"more info"
M3-50-7
55-1/8
30
profiles &
M3-55-8.2
59-5/8
32-13/16
dimensions
M3-65-8.2
68-3/8
37-3/4
M3-75-8.2
77-7/16
42-3/4
*The outside dimensions of your picture frame will vary slightly depending on your frame selection. Call for more details.