'M3-M' Flip-Around, Wall Mount w/ Picture Frame (Motorized)
You may also be interested in the following product(s)
| | | | |
| --- | --- | --- | --- |
| | | | |
Interested in hiding a TV behind artwork or a mirror? Our award-winning* MOTORIZED Flip-Around TV mount is a great option! Choose from various picture frames or use one of our "extender" frames to attach a picture frame from your local frame shop. You can install your own artwork or order artwork from us. Or, you can use a mirror. This TV mount adjusts to fit most TVs. Refer to the recommended TV specs for specifics. You can also give us a call with the TV model number and we'll check it for you. Contact us to discuss your project. We've got you covered with access to knowledgeable designers & technical support.
*BEST NEW PRODUCT AWARD - CEDIA 2013
Recommended steps to learn about our Flip-Around TV Mount
Watch Installation Overview VIDEO - (Note: This video is meant to prime you with a basic understanding of the installation process. Refer to your model's instructions book for specific details)
Refer to the installation instructions. Note: For layout dimensions specific to a built-in application refer to the construction drawings linked above.
Contact us to discuss your project. We are knowledgeable and are happy to guide you through each step.
Key Features
Our tech support is unmatched tech support! Call, text, email or VIDEO CHAT with tech support!
Tied and true product! In production since 2013, solid construction, diligent quality control, complete instructions, and knowledgeable tech support.
Fits most modern TVs. Sizes available for TVs from 40" to 75" screen size (Refer to recommended TV specs for details)
Adjusts to fit YOUR wall studs, Adjustable wall mounting brackets can be slid left and right to align with your studs.
Clean cable management. Install up to 6 cables (3 per arm)
Robust motors; powerful and built to last. Internal springs counter the weight of the TV and panel so the motors operate at a fraction of their capacity.
Install a 3rd party picture frame (see our "extender" frame) or choose from one of our beautiful picture frames. (See "Picture Frame" tab)
Install artwork or a mirror. Easy to install or replace artwork at any time. (See "Artwork" tab)
Design assistance/consulting available
Quality construction. Made of Heavy Duty Steel. Pivot points feature PTFE coated bearings. Durable powder coat finish.
Every product is tested prior to shipment.
Well thought out design with worst-case situations considered and addressed so you don't have to worry.
Smart Controller option: Can be integrated with home automation systems via contact closure, wifi control through the eWeLink phone app, Alexa, Google Home, and more. WiFi down? No problem, you can also control via the included adhesive-backed membrane push button. (Click here for more info or to purchase this controller separately)
Wireless RF Controller option: Control with a 3 button wireless RF remote (open, close, stop)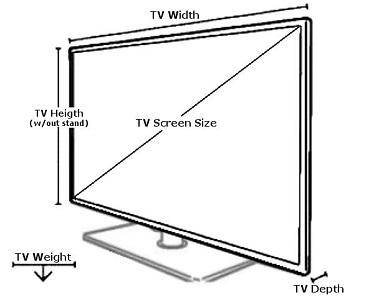 The Flip-Around mounts are designed to fit various sizes of TVs (see the maximum dimensions specified below). If you have any questions or if your TV falls outside these dimensions please feel free to call 1-208-287-8882, click the Live Help box in the lower right corner of your screen, or send us an email.
Here are lists of some TVs that fit and their dimensions: M3-75-8.2, M3-65-8.2, M3-55-8.2, M3-50-7, M3-43-7
Maximum TELEVISION Dimensions & Weight

TV Mount Model #

Screen Size

Width (Max.)

Height (Max.)

Depth (Max.)

Weight (Max. recommended)

M3-43-7

up to 43

38.3

23.0

Please

see

the

note

below


40

M3-50-7

up to 50

44.5

26.0

45

M3-55-8.2

up to 55

49.0

28.6

55

M3-65-8.3

up to 65

57.75

33.3

65

M3-75-8.2

up to 75

66.75

38.5

90
Note Regarding TV Depth:
In general 2.5" is the Maximum TV Depth. However, it varies depending on 1) the picture frame you choose and 2) the shape of your TV. If your TV is deeper than 2.5" please give us a call or email us with your model number and we'll check it for you.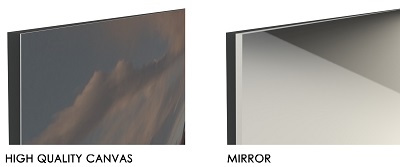 How's the Artwork or Mirror work?
How's the artwork installed? Install artwork or mirror in the picture frame just like a standard picture frame. Lay the artwork in the frame then use the supplied hardware to hold it in place.
When is the artwork installed? You can install or replace artwork (or mirror) anytime without disassembling the TV mount or removing the TV. So, you can install the TV mount and picture frame then decide on artwork later. Simply, detach the picture frame from the TV mount, insert or replace your artwork, then re-attach the picture frame.
---
What are my options?
OPTION 1: MIRROR
Order mirror from us: Click here to purchase a mirror from Hidden Vision. This option is the most simple in our opinion. The mirror will be sized to fit your order. It will be backed with commercial grade safety backing as well as a black border for aesthetics. The mirror will be shipped in its own box and can be ordered at any time.
Order mirror yourself from a local glass shop: If you choose to install a mirror from your local glass shop, it should be a 1/8 inch thick unless you talk to us first and order your TV mount with custom spring setting. The mirror should also be backed with a commercial grade safety backing. Find mirror dimensions for your model and picture frame listed below or in your instructions.
OPTION 2: Order a High-Quality Canvas print from Hidden Vision
You can order High-Quality canvas prints from us. Artwork ships separately and can be installed at any time after the TV and picture frame are installed so no need to rush a decision. We stretch our canvas prints over a rigid hardboard sized to fit your picture frame. The canvas will be coated with a UV protective Coating and the back is finished with a black border so not to be an eyesore when watching TV.
- Click here if you'd like us to print the artwork from one of these online resources: shutterstock.com, istockphoto.com, useum.org, or mycamera2canvas.com. (NOTE: The mycamera2canvas website is slow to load. Once you've selected your options from the drop-down menu, please wait, the images will appear, but it will take a minute or two.)
- Click here if you'd like us to print one of your pictures. You can email us an image to print.
- Click here to view our selection of photography.
- Click here for a blank canvas for painting
OPTION 3: Source artwork locally or use your own.
You can order artwork from a local art supplier or printer and install it anytime after the TV mount is installed. Here's what you want to request, "canvas, mounted on 3/16" board (preferably black in color if available). You'll find artwork dimension listed below as well as in your instructions booklet. If you'd like to install something different, please contact us to discuss your options and specific product requirements.
---
Artwork Dimensions for 200, 400, 986, 1540 & 1541 Series

Picture Frames

TV Mount Model #
Art Width
Art Height

M3-43-7

46-3/4

25

M3-50-7

53

28

M3-55-8.2

57-5/8

30-7/8

M3-65-8.3

66-1/4

35-3/4

M3-75-8.2

75-3/8

40-3/4
Artwork Dimensions for LOW PROFILE ("LP")

Picture

Frames
TV Mount Model #
Width
Height

M3-43-7

45-3/8

23-1/2

M3-50-7

51-5/8

26-1/2

M3-55-8.2

56-1/4

29-3/8

M3-65-8.3

64-7/8

34-3/8

M3-75-8.2

74

39-1/4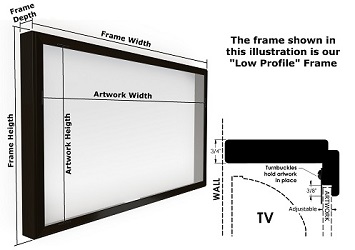 OPTION 1: FINISHED all in one Picture Frames + (Starting at $249) More Info, Video
High-end moldings ready for artwork. Choose the finish and style that fits your taste. No additional framing needed.

OPTION 2: UNFINISHED Picture Frame + (Starting at $199) More Info, Video
Unfinished LP frame or Extender frames are available in poplar wood. Also, keep in mind, you can rough up the surface of any of our picture frames and paint them whatever color you'd like.
OPTION 3: SHADOWBOX Frame EXTENDER + (Starting at $99) More Info, Video
This option allows you to install your own picture frame to the face of our extender frame. (Note: There is a limit to the allowable frame thickness along the outer perimeter. It's a good idea to contact us to better explain the limitations)
OPTION 4: No Frame ($0)
If you'd like to build your frame from scratch you can purchase this mount without a frame.
Picture Frame Outside Dimensions
TV Mount Model #
Frame Width*
Frame Height*
Depth
M3-43-7
48-7/8
27
"more info"
M3-50-7
55-1/8
30
profiles &
M3-55-8.2
59-5/8
32-13/16
dimensions
M3-65-8.3
68-3/8
37-3/4
M3-75-8.2
77-7/16
42-3/4
*The outside dimensions of your picture frame will vary slightly depending on your frame selection. Call for more details.