Print artwork from Shutterstock, iStock, etc.-19"-32"
Artwork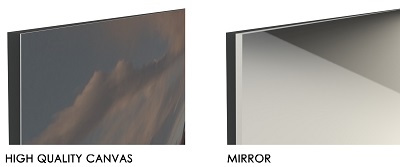 OPTION 1: High-Quality Canvas

Within the "Shop Product" tab you will find the "Artwork or Mirror" category where you can choose from our images or upload your own!! We will send you a high-quality canvas print stretched over a rigid board sized to fit your picture frame. Your artwork is coated with a UV protective Coating, and the back is finished with a black cover. For additional artwork options, you can also visit www.mycamera2canvas.com where you can choose from over 6,700 images.
OPTION 2: Hidden Vision(TM) MIRROR
We offer mirrors!! Within the "Shop Product" tab you will find the "Artwork or Mirror" category where there will be an option for mirrors that are made explicitly for your Hidden Vision picture frame.
1) Safety: Our mirrors are backed with a safety mesh backing that is designed to hold the mirror together should it ever break.
2) Appearance: We finish the back with a black rigid board cover, so that is disguised behind your TV.
3) Noise Reduction: The two layers consisting of the mirror and the rigid board helps to reduce noise caused by reverberation.
Option 3: Install Your Own Artwork
If you would like to install your own artwork, there are various options available. Please contact us regarding your options and the specific product requirements.
Option 4: Install Your Own Mirror
If you choose to install a mirror from your local glass shop, it must be a 1/8th-inch mirror in width (Not 1/4th inch). The mirror must also have a safety backing product. Please do not install mirror or glass without contacting us regarding additional requirements.
---
Artwork Dimensions for 200, 400, 986, 1540 & 1541 Series Frames
TV Mount Model #
Width
Height

M3-40-7

45-1/4

24-15/16

M3-43-7

46-3/4

24-15/16

M3-48-7

51-1/2

27-15/16

M3-50-7

53

27-15/16

M3-55-8.0

57-9/16

31-5/16

M3-55-8.1

57-9/16

31-5/16

M3-55-8.2

57-9/16

30-13/16

M3-60-8.0

62-11/16

33-1/2

M3-60-8.1

62-11/16

33-1/2

M3-65-6

66-3/16

35-5/16

M3-65-8.0

66-3/16

35-11/16

M3-65-8.2

66-1/4

35-3/4

M3-75-8.2

75-5/16

40-11/16
Artwork Dimensions for

LOW PROFILE ("LP")

Frames

(OD-3.125)

TV Mount Model #
Width
Height

M3-40-7

43-7/8

23-1/2

M3-43-7

45-3/8

23-1/2

M3-48-7

50-1/8

26-1/2

M3-50-7

51-5/8

26-1/2

M3-55-8.0

56-3/16

29-7/8

M3-55-8.1

56-3/16

29-7/8

M3-55-8.2

56-3/16

29-3/8

M3-60-8.0

61-5/16

32-1/16

M3-60-8.1

61-5/16

32-1/16

M3-65-6

64-13/16

33-7/8

M3-65-8.0

64-13/16

34-1/4

M3-65-8.2

64-7/8

34-5/16

M3-75-8.2

73-15/16

39-1/4