SAVE UP TO $300! Now through Cyber Monday
Flip-Around, MOTORIZED, for Built-in Application
You may also be interested in the following product(s)
| | | | |
| --- | --- | --- | --- |
| | | | |
Interested in hiding a TV in any wall or cabinetry? Our award-winning* MOTORIZED Flip-Around TV mount is a great option! This, built-in specific version houses the TV and mechanical parts within a space less than 3.5" deep so it works conveniently with standard dimensional lumber. Ask about our free built-in construction drawings to help make the design/build process smooth. Or, set one up in your workshop and build around the mechanism. Either way, we've got you covered with access to knowledgeable designers & technical support. Contact us to discuss your project.
*BEST NEW PRODUCT AWARD - CEDIA 2013
Key Features
Unmatched tech support! Call, text, email or VIDEO CHAT with tech support!
FREE BUILD DRAWINGS FOR BUILT-IN APPLICATIONS! CONTACT US
Depth required = 3.5" to work with dimensional lumber (contact us for construction drawings)
Adjustable wall mounting brackets slide left and right to align with your studs.
Install up to 6 cables (3 per arm)
Sizes available for TVs from 40" to 75" screen size (Refer to recommended TV specs.)
Robust motors; powerful and built to last. Internal springs counter the weight of the TV and panel so the motors operate at a fraction of their capacity.
Design assistance/consulting available
Tied and true product! In production since 2013, solid construction, diligent quality control, complete instructions, and knowledgeable tech support.
Quality construction. Made of Heavy Duty Steel. Pivot points feature PTFE coated bearings. Durable powder coat finish.
Every product is tested prior to shipment.
Well thought out design with worst-case situations considered and addressed so you don't have to worry.
Smart Controller option: Can be integrated with home automation systems via contact closure, wifi control through the eWeLink phone app, Alexa, Google Home, and more. WiFi down? No problem, you can also control via the included adhesive-backed membrane push button. (Click here for more info or to purchase this controller separately)
Wireless RF Controller option: Control with a 3 button wireless RF remote (open, close, stop)
Recommended steps to learn about our Flip-Around TV Mount
Promotion
Ask about our FREE EXTENDED WARRANTY promotion!!! Currently, we are offering a free extended warranty in exchange for pictures, video, and customer reviews.
Try it for 60-days! If you don't like it, return it.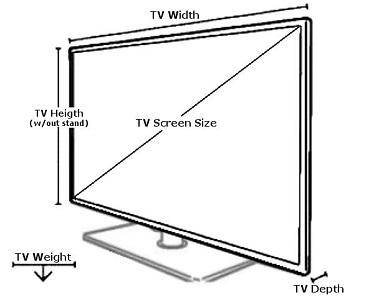 The Flip-Around mounts are designed to fit various sizes of TVs (see the maximum dimensions specified below). If you have any questions or if your TV falls outside these dimensions please feel free to call 1-208-287-8882, click the Live Help box in the lower right corner of your screen, or send us an email.
Here are lists of SOME (not nearly all) TVs that fit: M3-75-8.2, M3-65-8.1, M3-55-8.2, M3-50-7, M3-43-7
Maximum TELEVISION Dimensions & Weight

TV Mount Model #

Screen Size

Width (Max.)

Height (Max.)

Depth (Max.)

Weight (Max.)

M3-43-7

up to 43

38.3

23.0

Please

see

the

note

below


40

M3-50-7

up to 50

44.5

26.0

45

M3-55-8.2

up to 55

49.0

28.6

50

M3-65-8.2

up to 65

57.75

33.3

65

M3-75-8.2

up to 75

66.75

38.5

80
Note Regarding TV Depth:
In general 2.5" is the Maximum TV Depth. However, it varies depending on 1) the picture frame you choose and 2) the shape of your TV.
If your TV is deeper than 2.5" please give us a call or email us with your model number and we'll check it for you.